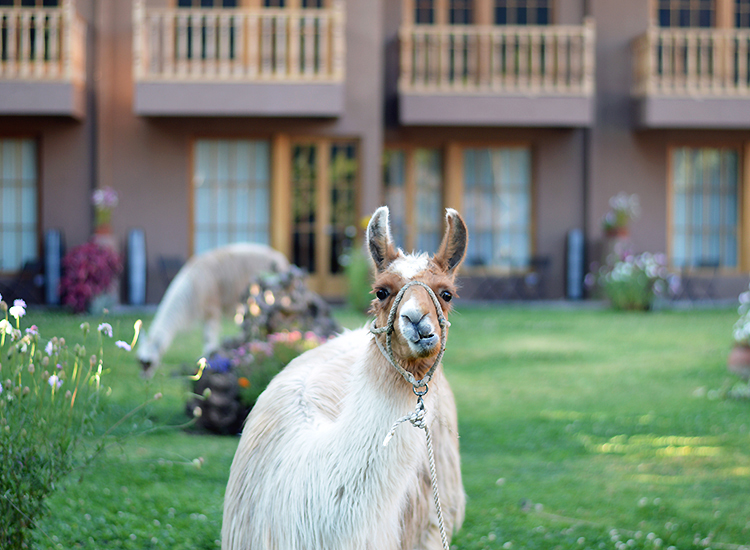 On the Lares Trail With Mountain Lodges of Peru
Alarm clock be damned: It was just shy of 6 a.m. on the second day of my Lares Adventure to Machu Picchu, and I had already flung myself out of bed and laced up my hiking shoes. The opportunity to mingle with Lamay Lodge's good-natured resident llamas before departing for Ancasmarca, a nearby archaeological site, had quickened my normally sluggish morning pace.
Unexpected, delightful details — including several run-ins with mama llama Angelica and her two kids, Cupid and Chimuela — dotted my five-day tour with Mountain Lodges of Peru (MLP). Starting in Cusco, the local operator skirts the traditional Inca Trail and takes guests on the less crowded but just as rewarding Lares Trail. This road less traveled twists and turns through the Sacred Valley, lending itself to one far-flung Andean village after another.
"The trip would appeal to someone who wants to have the experience of going to Machu Picchu, but with a little more depth," said Nadia Le Bon, sales and marketing manager for North America for MLP. "This person likes the outdoors and maybe isn't a committed hiker, but still wants to dabble in adventure."
This isn't MLP's first rodeo, however. In 2007, the operator introduced its Salkantay program, another alternative route to the ruins. More physically demanding than the Lares option — which launched in October 2014 — it was met with acclaim from travelers intrepid enough to hike for six to eight hours up to Salkantay Pass (and at 15,213 feet elevation, no less).
But I shouldn't give the Salkantay Trail trekkers — or anyone doing the Lares Trail, including myself — much credit, because seeing Peru with MLP hardly qualifies as "roughing it." Rather than retire to a tent or hostel each night, I checked into a four- or five-star property, such as Lamay Lodge in Lamay and Huacahuasi Lodge in Huacahuasi (both owned and operated by MLP). Other accommodation highlights included Tambo del Inka, a Luxury Collection Resort & Spa in Urubamba and Inkaterra Machu Picchu Pueblo Hotel in Aguas Calientes.
When I wasn't winding down in comfort, though, MLP kept me plenty busy. After a multicourse dinner each night — often prepared by a private chef — the affable guides would present the next day's activities, ranging from soft adventure to culturally immersive experiences.
"The trend in travel is more customized with more options," Le Bon said. "Having choices is very important for people. This is the perfect solution, and travelers know they're in good hands."